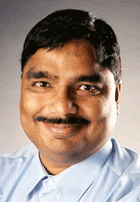 Atul Jain
Atul Jain founded TEOCO Corporation in 1994 with a dream of building a successful business model, not just a successful business. The model affords opportunities to employee-owners and entrepreneurs to give life to their dreams "without selling their soul to the devil." Today, employee-owner's quotidian ingenuity defines TEOCO's corporate culture. Mr. Jain has tilled the soil for the employee-owners to seed their ideas, to participate in the decision-making process, and to reap the fruits of their success. Prior to starting TEOCO Corporation, Mr. Jain worked at TIBCO, a Silicon Valley firm, for seven years. Mr. Jain holds a master's degree in computer science from University of Illinois at Urbana-Champaign, a bachelor's, and master's degree in statistics from the Indian Statistical Institute, Kolkata, India. Mr. Jain is passionate about giving back to communities.
Dr. BP Agrawal
​
Dr. BP Agrawal founded Sustainable Innovations to pioneer sustainable business solutions for social problems. SI's programs have won wide acclaim for societal innovations, social enterprises, and systemic sustainability. He was recognized as one of CNN's Top Ten Heroes in 2015. He is the recipient of the 2012 Purpose Prize award, the 2010 Lemelson – Massachusetts Institute of Technology Sustainability award, the 2010 Energy Globe World award, and the World Bank Development Marketplace Award for self-sustainable social enterprises in 2006 and 2007. He was invited to the 2011 World Economic Forum to share his social enterprise model with 30 heads of state. Dr. Agrawal is a frequent speaker on fostering social enterprises, systemic sustainability, and People-Culture Innovations. Dr. Agrawal served on the Advisory Boards of the Lemelson Center for innovation, and the Smithsonian Institution for inventiveness and creativity in Washington, DC. He is an alumnus of University of South Florida (USA), the Birla Institute of Technology and Science (India), and the Executive Program of Sloan School, MIT (USA).
Debra Cheng
Debra Cheng is a board member and secretary of Sustainable Innovations. She is an attorney with Caterpillar Inc's Legal Services Division's International Trade Group in Peoria, Illinois, after having worked at a large law firm in Washington, DC on international trade, transactional, and policy matters. Debra has also worked in a variety of capacities in industries such as oil & gas, specialty chemicals, banking, telecommunications, and advertising. She serves as Leadership Committee Secretary for the Association of Corporate Counsel's Ethics & Compliance Committee.
Karthik Krishnamurthy
Karthik currently runs the Telekonnectors Group whose focus is telecom product design & engineering both in hardware and software space. His latest venture is JustAct which is an online dispute resolution platform. Prior to this he was a Managing Director at Deutsche Bank for 15 years in the London, New York and Singapore offices specialising the financial engineering of lending transactions. He holds an MBA from IIM Calcutta and a MS (Technology) in Information Systems from BITS Pilani. Outside of work, he is interested in Indian Carnatic Music, Tennis and Cricket.
Dave Hilfman
Dave Hilfman, Life Member, just retired after 37 years in the airline industry. He served as senior vice president of worldwide sales for both United Airlines and Continental Airlines for over 14 years. The merger between Continental and United created the world's largest airline in terms of passenger revenue at the time of the merger. Hilfman is credited with helping unify the two cultures with his honest, affable leadership style.
​
His career took off when he was a student at USF and was asked by Eastern Airlines to serve as its campus sales representative. A two-term student body president and member of USF's first student Ambassadors, the carrier recognized in Hilfman a young man uniquely suited to the job. In 2017, Hilfman became one of only nine recipients in 49 years of the Global Business Travel Association's ICON Award, recognizing those whose contributions further the corporate travel industry. He has twice been named one of the 25 Most Influential Travel Executives by Business Travel News. In retirement. Dave intends to only focus his efforts on extraordinary organizations like Sustainable Innovations. Between that work and his new wife and newborn baby – Dave is going to be exceptionally busy this year. Looking forward to making a difference.
Naren Karanam
​
Naren Karanam is a Portfolio Manager at Millennium Limited Partners based out of New York. He was previously a partner at Arrowgrass Capital in the Volatility Arbitrage division. He is also the co-founder of PS Kitchen which is a social business and plant-based restaurant, committed to creating jobs for those marginalized in New York with partnering organizations and donating 100% of profits to sustainable charitable work locally and overseas. He has a Bachelor of Economic Science from the University of Manchester, UK.
Anshu Shukla
​
Anshu Shukla is a Neuroradiologist currently working in Louisville, Kentucky. Anshu is from the Northern Virginia area and received a B.S. in Economics, Biomedical Engineering and Electrical engineering from Duke University after which he worked in consulting at JPMorganChase and Accenture. He then changed careers to medicine and obtained a medical degree from Virginia Commonwealth University School of Medicine. Anshu pursued a residency in Diagnostic Radiology at George Washington University Hospital in Washington, DC. In 2016, he finished his subspecialty fellowship training in Neuroradiology at Yale in New Haven, Connecticut.
Kanad Tiwari
Kanad Tiwari is a Financial Advisor at Merrill Lynch and has been with the firm since 2001. He is the co-founder of Courthaus Social, a restaurant in Arlington, VA. He is involved in charities and nonprofits including US India Security Forum, Pratham USA and Sustainable Innovations. Kanad and his wife, Seema, enjoy traveling, playing tennis, snowboarding and spending time with their families together.
Dr. Rama Ramakrishna
​
Dr. Rama Ramakrishna joined the faculty at Arizona State University in 1985 after a postdoctoral fellowship at the University of Zurich, Switzerland. In 2011–16 he was the Diane and Gary Tooker Professor of Materials Science and Engineering at ASU's Fulton Schools of Engineering and a member of the humanitarian engineering faculty until his transition to emeritus professor in 2016. In 2013 he was selected to be a Jefferson Science Fellow and, in a cohort of 4 engineers, 4 scientists, and 4 doctors, served as a senior science and technology advisor to the Office of the Secretary of State. He helped guide US international relations through the lens of "engineering for sustainable development" and provided intellectual, technical, and strategic leadership on policies and priorities in health, education, energy, infrastructure, economic growth, and governance. In January 2017, he became the inaugural director of the Grand Challenges Scholars Program at the National Academy of Engineering to lead the effort to prepare a new cadre of leaders that not only have the necessary engineering skills but also the cross-disciplinary knowledge, entrepreneurial spirit, global perspective, and sense of mission needed to meet the challenges facing humankind in the 21st century. Dr. Ramakrishna received his PhD in solid state science from the Indian Institute of Technology, Madras, in 1982.
Dr. Ashok Agrawal
​
Dr. Ashok Agrawal, D.M., P.E., F.ASEE, recently retired as the managing director for professional services and director of outreach and engagement at the American Society for Engineering Education. Previously he was the vice president for Academic Affairs at St. Louis Community College at Florissant Valley. For over 35 years, Dr. Agrawal has served as a faculty member, instructor, administrator and Chief Academic Officer of Associates and Baccalaureate programs for engineering science and technology. In 2009 FOCUS St. Louis recognized Dr. Agrawal and his colleagues with the "What's Right With the Region" award. In 2007, Dr. Agrawal was inducted as a Fellow Member of the American Society for Engineering Education. In 2006 he was selected to participate in the FOCUS St. Louis "Leadership St. Louis" program. He is the 2003 recipient of the David L. Underwood Lecture Award, and the Governor's Award for Excellence in Teaching. Dr. Agrawal has been instrumental in the development and award of grants from the National Science Foundation and other public and private agencies, including a $600,000 grant for the College Career Transition Initiative from the League of Innovation in Community Colleges. Dr. Agrawal holds a Doctorate in Management degree from the University of Maryland, an MS degree in Materials Science, an MS degree in Mining Engineering from the University of Kentucky. He lives in Washington DC, is passionate about creating the right kind of engineer for addressing the needs of society and industry in the 21st century and has developed deep connections to universities across the US and around the world.
Mathew Samuel
​
Mathew has been supporting Sustainable Innovations since his time as an intern in 2012, while at UVA, where he studied mathematics, economics and statistics. He has worked in management consulting serving federal and nonprofit clients across a range of analytics, operations and strategy projects. He currently works as a data scientist in tech and previously completed a masters in health data science from Harvard's T.H. Chan School of Public Health. He's passionate about impacting structural change and using data to drive better decision-making, particularly in health.
Arjun Malhotra
Mr. Malhotra served as Chairman of Headstrong's Board of Directors before its acquisition by Genpact in May 2011. Prior to Headstrong, he was the Chief Executive Officer and Chairman of TechSpan, which merged with Headstrong in October 2003. A pioneer of the Indian IT industry, Mr. Malhotra founded TechSpan in 1998 with funding from Goldman Sachs and Walden International. The merger of TechSpan with Headstrong created an end-to-end services organization and Mr. Malhotra led its seamless integration across businesses and cultures, resulting in Headstrong's recognition as one of the fastest-growing IT-based financial services companies.
Arvind Panagariya
Arvind Panagariya is a Professor of Economics Columbia University and a non-resident Senior Fellow at the Brookings Institution, a non-profit public policy organization based in Washington, DC. In the past, he has been the Chief Economist at the Asian Development Bank and a Professor of Economics and Co-director at the Center for International Economics, University of Maryland, College Park. He has also worked for the World Bank, IMF, WTO, and UNCTAD in various capacities. He holds a Ph.D. degree in Economics from Princeton University.
Harold Glasser
​
Harold (Hal) Glasser (SI Board Member since 2012) is an international corporate attorney and compliance professional. He was Chief Ethics and Compliance Officer at Sanofi-Pasteur MSD, a European vaccines company, and a managing counsel at Merck & Co., Inc., supporting healthcare businesses in Asia Pacific, Europe, and Latin America. While at Merck, Hal led the expansion of its pro-bono program outside the U.S. He remains active in pro-bono initiatives, with a focus on healthcare. He received his J.D. from Brooklyn Law School and was a graduate research fellow in economic law at Tokyo University.
​
Prem Jain
Prem Jain is currently the Senior Vice President and General Manager of INSBU Division at Cisco. In 2012, Mr. Jain co-founded Insieme Networks, which was acquired by Cisco Systems, Inc. in 2013 where he served as Co-CEO, CFO and Co-Founder of Insieme Networks, Inc. Insieme is building the next generation data center solutions. Prior to Insieme, Mr. Jain was the Senior Vice President of the Server Access Virtualization Technology Group at Cisco Systems from 2008 to 2011. Mr. Jain is the recipient of two patents and a member of the Institute of Electrical and Electronics Engineers (IEEE) association. He holds a B.E. degree with honors from BITS Pilani, India and a Master's in EECS from University of California, Davis (UC Davis).
Ravi Mehra
Ravi Mehra is a retired senior executive with extensive experience in the life sciences industry and in the rotational molding industry globally. He consults internationally with companies in the rotational molding arena to help their business development strategy, alliances and technology tie-ups. He is the founding chairman of Society of Asian Rotomoulders (StAR), a past chairman of the Affiliation of Rotomoulding Organizations (ARMO), a past president of Association of Rotational Moulders (ARM) and has been nominated to ARM's Hall of Fame. Ravi has a BSME from the Birla Institute of Technology and Sciences (BITS), Pilani, India; MSME from the University of Wisconsin, Madison; and an MBA from RIT, Rochester, New York. His wife Manju and he love playing golf and travelling all over the world. Depending on the season, they divide their time between Naples, Florida and Cold Spring, New York.
Prakash Patel
​
Prakash Patel serves in a dual role as Chief Operating Officer of GuideWell Mutual Holding Corporation and Florida Blue and as President of GuideWell Health, the health services organization in the GuideWell family of companies. Prior to his current role, Patel served as CEO of Access MediQuip, the nation's first and largest provider of outsourced surgical and implantable medical device management solutions. Previously, he worked at Magellan Health Services, where he served on the executive leadership team, as Chief Corporate Development Officer responsible for strategy, mergers and acquisitions. Earlier in his tenure with Magellan, he served as Senior Vice President, Operations for the company's National Imaging Associates (NIA) division.